Category Archives:
toy design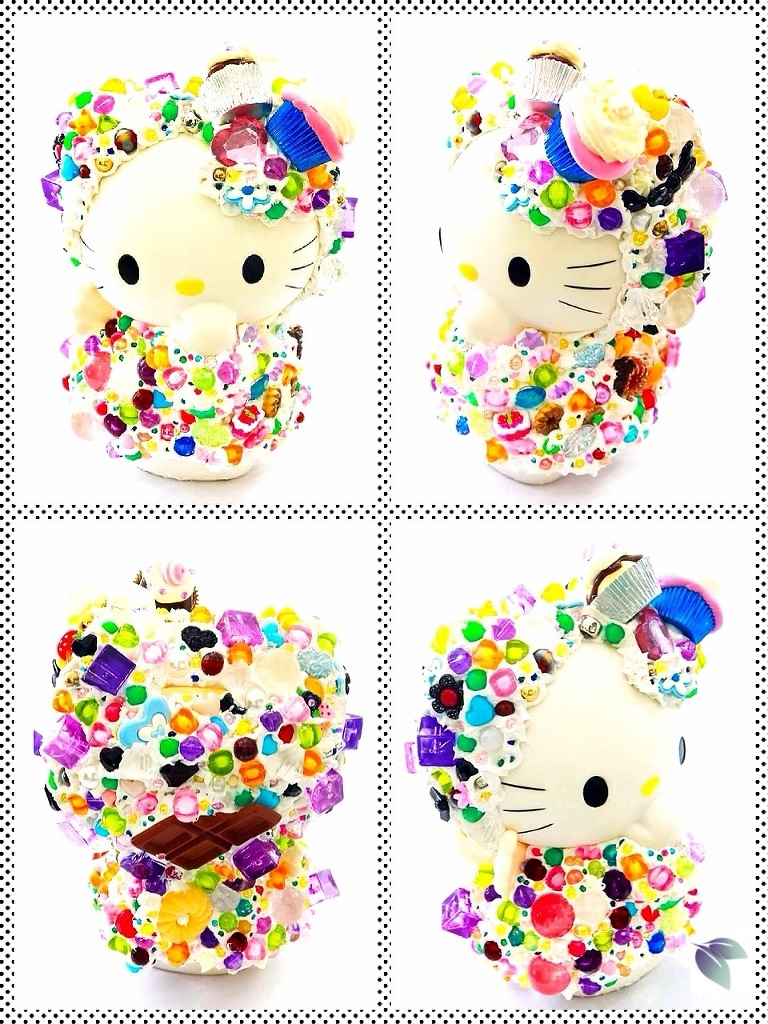 It's been a long whiles since I've had a chance to design a deco project. So while baby napped, I took the opportunity to deco my favorite Hello Kitty piggy bank. This was a project I have been wanting to do for a year but just never got around to it.
The kitty piggy bank was a birthday gift from a college buddy back in the days. Kitty collectors will recognize that this particular design is from the first Hello Kitty Angel product line dating back to 1998. I knew I wanted to deco kitty up to be a fabulous cake full of candy and dripping with sweets. It took three days to complete the design, working on different sides and waiting for each side to cure. I thought about all my kitty loving friends while deco-ing and am super happy with how she turned out.
Take a look at the making of our sweet candy kitty here and don't forget to subscribe to our channel🙂
Here are a few 1920×1080 wallpapers for you! <3 Just right click and save as.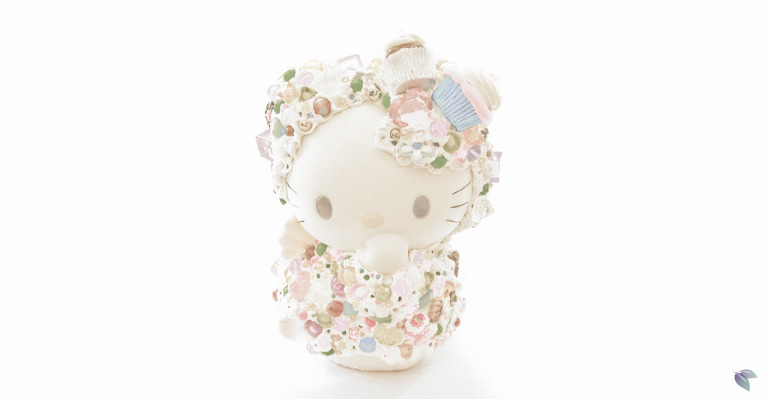 Being an avid toy collector, custom toy designer and a new mommy makes me nostalgic because motherhood automatically makes you reflect on your childhood experience, then compare it with your baby's. Seeing all the neat toys being sold nowadays makes me think of my favorite toys growing up which back then seemed nearly indestructible. My favorite toys were definitely the above Fisher Price classics, play-doh, shrinky dinks, legos…. I also loved the popular My Little Pony, Care Bears, Rainbow Brite, She-ra/He-man, Thundercats (yea…Thundercats…haha) dolls/action figures from the '80's too. That makes me think of my favorite afternoon and Saturday morning cartoons – Dungeons & Dragons, Muppet Babies, Jayce & the Wheeled Warriors, Jem,…. I digress… 🙂
You can still pick up old toys on eBay but be prepared to pay up for the really well loved ones like the Fisher Price wind up record player! I did some damage on eBay but instead of getting the original 1971 red wind up record player, I got a 1987 blue version which works the same but was cheaper. There is a re-release of this record player on the market now but beware it is not really the traditional, manual wind up toy of yesterday. It is an electronic toy that does not actually play from the records' grooves.
I hope the little one will enjoy some of these oldies (but goldies!) and wonder when my baby grows up if he will find some of my favorites among his toys!
UV Gels have been in use for at least a decade now. More commonly used in Asia, it is just making an appearance in the U.S. during the past few years. UV gels are commonly used as manicure products – yes, on fingernails – because they are almost odorless, more porous than acrylic (allowing surfaces underneath to breathe and flex) and cure crystal clear under a UV lamp. UV gel however can be applied on other surfaces to create custom designs on toys, models or any roughened plastic surface. They make really cute designs on any plastic makeup holder like eyeshadow boxes or trinket boxes. 🙂
For example, here is what a very basic UV gel application on my nails look: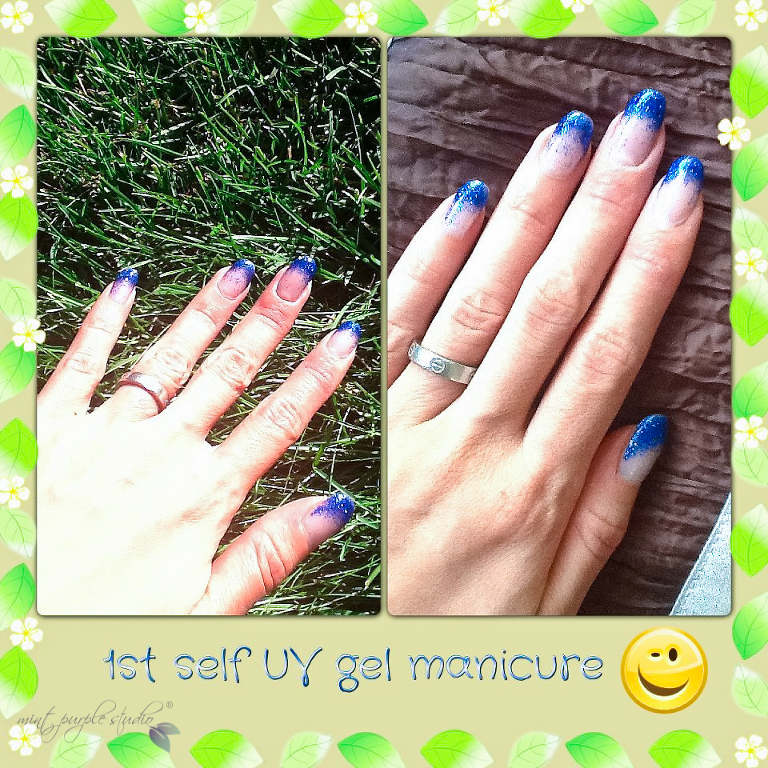 Contrary to popular opinion, UV gel can be applied at home and is a totally doable DIY project. You just need to understand the system, have a little patience and use the right materials 🙂 I will outline the basic process using the IBD gel system, Other systems have their own products and unique application procedure but IBD has a more general application procedure so if you buy other gel brands, you can still follow a similar process to some degree.
You will need:
a bonder
builder gel (usually comes in clear or clear pink to give nail applications a more natural look)
gel cleanser or 90%+ isopropyl alcohol (NOT acetone because acetone will take the varnish quality off of gel)
emerald nail file (for nails) or small grit sandpaper (for other surfaces)
Application is as follows:
lightly roughen the surface which you plan to design on with a file (for nails) or small grit sandpaper (other surfaces)
apply bonder sparingly and cure under the UV lamp for 30 seconds
use a lint free wipe to blot the surface with bonder but don't wipe anything off. you just want to create a tacky surface as a base for the clear gel layer. be careful to avoid cuticles if applying on nails or else the latter gel layers will cure on top of the cuticle and cause lifting.
apply a layer of clear gel with a brush and cure for one minute
apply your gel color, glitter color gel design with a brush. To create layering, gradation effects and 3D effects, cure for 2 min. before applying another design element so the gels don't blend into one another. You can use builder gel in a color of your choice with a brush for nails to preserve a smile line on the nail (i suggest watching a few youtube tutorials first because builder gel is thick and viscous). Application of this color and builder gel layer is the art part of using UV gel. you need a lot of patience and time. If applying on nails, don't get anything on the cuticles because even though thick, the gel can run. cure this layer for 2 minutes.
use 90% isopropyl alcohol to wipe off tacky surface after curing.
you can file the nail around and down if doing a manicure. be sure to wipe off any dust and debris.
apply top coat sealer with a brush to seal your nail or custom design. cure for 3 minutes. other top coat sealers have different curing times so be sure to check the product's label.
That's it! Note that if you are applying UV gel as a manicure, the resulting manicure will be thicker than regular nailpolish. It will resemble more of an acrylic nail art kind of manicure. You can always file down the gel (refer to step 7 above) before applying the final top coat sealer so the look isn't as thick.

There are other UV gel nail products that are applied and cure more like nailpolish (for instance, Gelish) but I would not recommend using those products to customize toys or other surfaces other than on nails. The most time consuming part of using UV gel is applying the color/builder gel layer and curing. But with a little patience, reference a few youtube videos on technique, customizing UV gels can be very fun!