Category Archives:
event design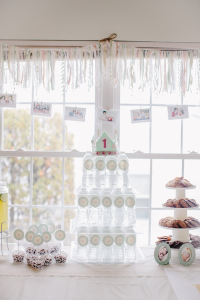 As part of my baby's shabby chic party theme, I created a photo banner using photos which I recycled into thank you cards that my guests loved.  This is a great DIY idea if you are looking for an environmental way to decorate. It's also a great way to save your party's deco because you can scrapbook parts of your photo banner if you have extra photos after turning them into Thank You cards.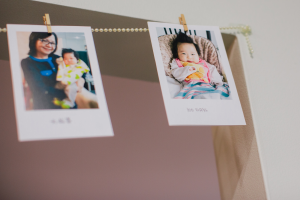 To create my photo banner, I spliced an 8.5×11 sized document in Illustrator and used four clipping masks to evenly clip photos placed in the document (two on the top and two on the bottom with the document in portrait position).  I printed about fifteen pages for a total of sixty photos and then cut them out.  The photos were then clipped onto a string of mini faux pearls (bought from orientaltrading.com) with baby clothespins.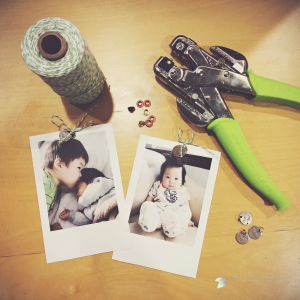 To DIY my thank you cards, here are the steps:
Materials:
eyelets
eyelet punch and fixer
charms
baker's twine
photo
DIY Steps:
punch a hole using an eyelet punch in your photo where you'd like to hang a charm
fix the eyelet in the hole using the eyelet fixer
string a piece of twine through the eyelet
tie the charm to your photo with a bow
Voila, you're done!  You can easily change the steps and turn the photo into a scrapbook element as well.  Be creative and have fun!
A few months ago, I was browsing Pinterest and came across loads of cute vintage milk bottle photos.  As soon as I saw them, I knew I wanted to incorporate them in my daughter's 1st birthday party.  Most of the favors didn't include the lid so I needed to think of something to fill the bottle with but packaged in a way so that the lids blended in with the party's shabby chic design theme.  I came up with the idea of using hot chocolate because the favor would be given out at the end of the party as a "sweet ending" and it seemed fun for the kids to be drinking hot chocolate on the way home.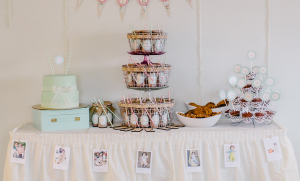 As far as packaging, my original design used scalloped tags which would be hung around the lid but the favor ended up looking very top heavy.  Therefore, the final design used round, scalloped labels on the bottle's midrift while a small silver "thank you" charm was tied around burlap with mint green baker's twine.  I really love the final look of the favor and it took me about 5 days to DIY including filling the bottles with hot chocolate, designing, printing and labeling the bottles then tying the charm over the burlap.  If you are in need of some shabby chic favor ideas, feel free to try this one! You can easily customize the colors, the label and fabric to match your party design.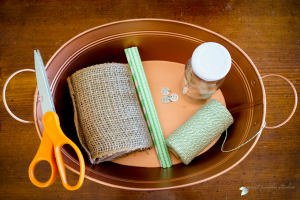 Materials:
baker's twine (sole on amazon.com)
charm (sold on orientaltrading.com)
burlap roll (sold on orientaltrading.com)
vintage milk bottles (sold on amazon.com)
round, scalloped labels (sold on amazon.com)
your favorite hot chocolate mix or your choice of candy filling
paper straws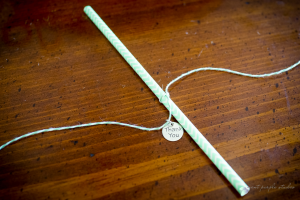 DIY Steps:
quickly clean the milk bottle, peel off all manufacturer stickers and labels and remove the lid
using a funnel, fill the milk bottles with hot chocolate about 1/4 of the way (or your choice of filling)
put the lids back on the bottle
design, print and adhere the scalloped labels to the milk bottle
cut enough square pieces of burlap or fabric of your choice about 4″x4″ to cover the lids of your milk bottles
cut about 10″ of baker's twine for each milk bottle you need to tie
tie the baker's twine around a paper straw and string a charm on the twine
assembly time! place a fabric square over the lid and milk bottle, smooth down the fabric all around the lid with one hand and wrap the twine with straw and charm attached around the fabric with the other hand (this step might take a little time to perfect).
wrap the twine around twice and then pull taut.  it should hold its position pretty well so you don't have to worry about the fabric flying out of place at this point
tie a double knot and then a bow and you're done!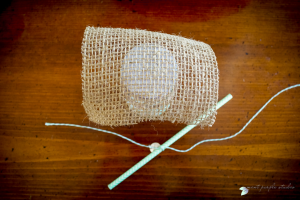 Feel free to drop me a line if you're having trouble with the DIY process.  Enjoy your cute vintage milk bottle party favors!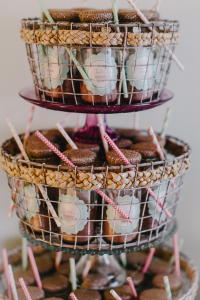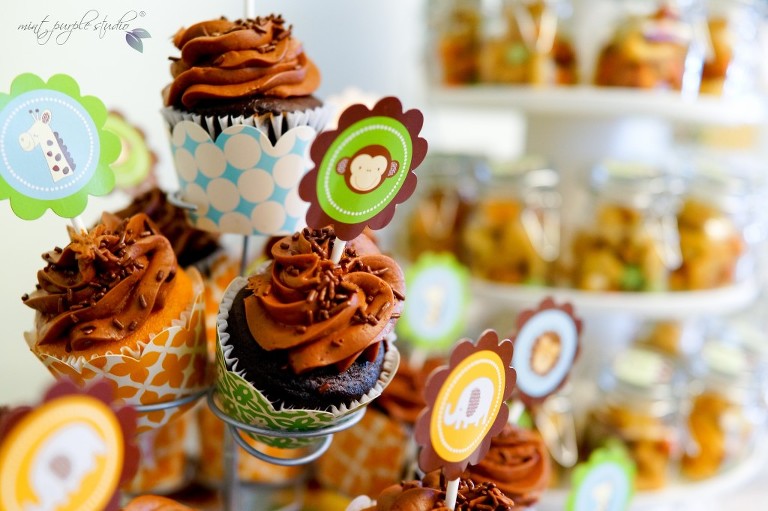 I just designed a fun birthday event for a very special baby turning one years old.  The theme was baby safari, using characters of baby jungle animals.  I used a buffet and a birthday pendant banner as the focal point for the whole design and was inspired by all the many fun ideas on Pinterest!  To save time, I bought a safari event decor set from accenttheparty.com set and created the birthday & photo pendant banners from scratch.
Here is a list of what I used to complete the design:
water bottle labels

favor tags
apothecary jars with a favor sticker label on the top
wire cupcake holder
plastic cupcake tower holder
2 ivory colored tablecloths
orange, green and brown balloons with white polka dots
a large tissue paper flower
pendant banner of baby's photos
cupcake character toppers
cake character toppers
cupcake liners
balloon animals and coconut tree
Here are photos from the event for inspiration!